A note from Simon, Chair of Annabel's Angels
I've seen many people come and go since December 2012. I've seen friendly faces become even more friendlier. I've seen faces become distant, perhaps unsure about what to say or what to do. I've seen my own face in there too, equally unsure at times about what to do, say, interact, feel etc.
I've been very vocal about how lucky I feel I've been with the support I've received along the way. Family and friends helped with listening ears, broad shoulders and culinary skills. And dog walks too.
A key part of my well-being has been my involvement in a widower's forum set up by my good friend Benjamin Brooks-Dutton. Ben and I got in touch with each other in January 2013. I wanted to talk to other widowers to see if what I was thinking, feeling and fearing was normal. And so, the doors were opened for other widowers to join a small online group, a safe space whereby us chaps could talk openly and share our innermost thoughts and feelings about this new and unexpected stage of our lives.
It's now March 2015 and the group has grown considerably. Some are parents, some aren't. Some live overseas, some are young, some not so young. It's an eclectic group. Several guys have gone on to give their time and energy in helping to improve the lives of others. This has been in the form of fund-raising, joining charity committees, sharing their skills in a practical way, sharing their experiences in print and online, and some, like me, have gone on to set up a charity where gaps might exist.
Last weekend I ran the Lincoln 10k with three of those chaps - Paul Verrico, Andy King and Pete Wallroth.
Paul set up Teamverrico following the loss of his wife Anna. Team Verrico concentrates on Cancer Support, Research and Treatment Options and Education about all aspects of Triple Negative Breast Cancer.
Andy supports the St Barnabas Hospice Trust which provides specialist palliative and end of life care so that everyone can access and receive the support they need to live well and ease the process of dying. He does this with his children Alex and Harry through their charity Screw Cancer.
Pete is the founder and CEO of Mummy's Star. It is the only UK charity with the aim of supporting pregnancy through cancer and beyond. The charity offers support to other women and families finding themselves in this situation by providing a single point for medical advice and guidance, a small grants programme to provide financial relief; and campaigning and advocacy.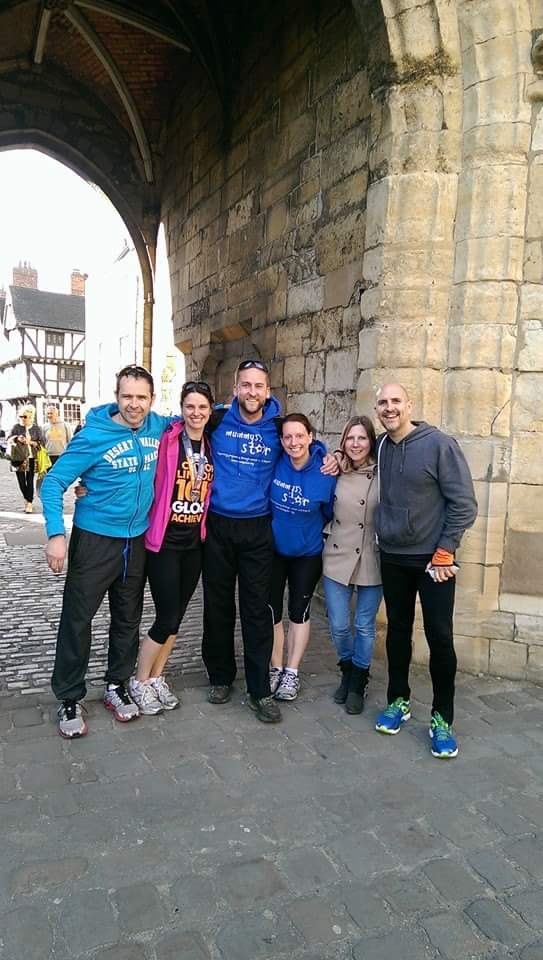 Running the Lincoln 10k with these chaps was such a privilege for me. I felt a real resonance with them, a strong connection and unity. And, of course, a 'never give up' outlook on life. It's safe to say we've become very good friends.
Experiencing a tragic life event has shown me the value of creating those all important life opportunities for me and my boys, to push ourselves physically and mentally, and to seize the day. Things don't, and never will, always go according to plan of course, but that's the beauty of life, we just never know what will happen. Do we?
Seize the day, connect with those around you, forge new friendships. Live and love life.
Simon Hancox
23 March 2015
* I'd also like to say a huge thank you to those who sponsored me for this event, those who shared Facebook posts, those who tweeted and those who cheered us all on during the race itself. Thank you all so very much x